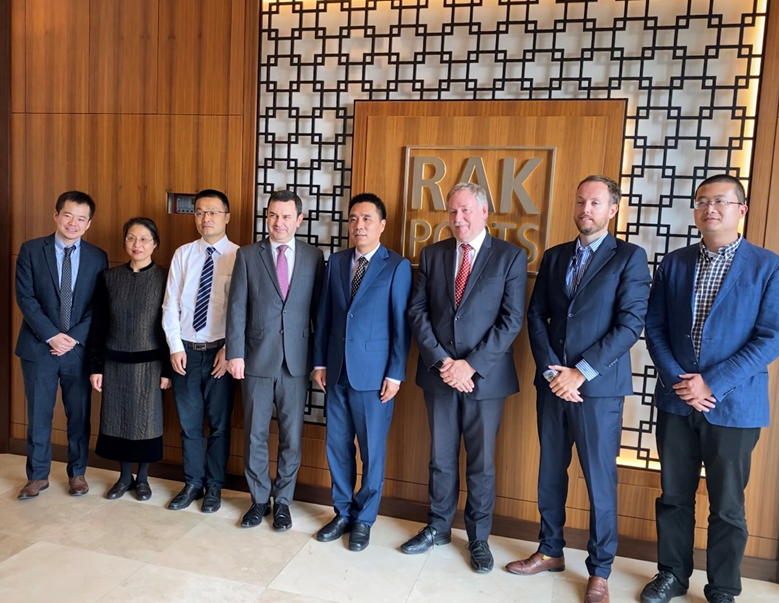 RAK Ports Receive Delegation from Ningbo Municipal Bureau of Commerce.
RAK Ports recently welcomed a delegation from Ningbo Municipal Bureau of Commerce, Ningbo City, China.
A 5-person delegation led by Mr. Pan Xiaofeng, Division Chief of Ningbo Bureau of Commerce Integrated Research Office, was received by members of RAK Ports senior management.
In 2018, Ningbo Port was ranked as No.1 in the world with cargo volumes in excess of 1.1. billion tonnes and number 3 in the world for container volumes of 26.35 million TEUs. Ningbo's associated Free Zone – Ningbo Free Trade Zone – is also one of the most established and successful Free Zone's in China.
The delegation toured Saqr Port/Free Zone and RAK Ports officials briefed the delegation about the integrated business offerings of the industrial zone and Saqr Port, the largest bulk handling port in the Middle East. Both parties also discussed business opportunities and possible areas of cooperation.
Mr. Scott Keddle, Manager of Saqr Port Free Zone commented after the meeting "We continue to reach out to our Port and Free Zone counterparts across China and look forward to developing our relationship with Ningbo over the coming years in conjunction with China's Belt and Road initiative".