RAK PORTS RECEIVE DELEGATION FROM CHINA AGGREGATE ASSOCIATION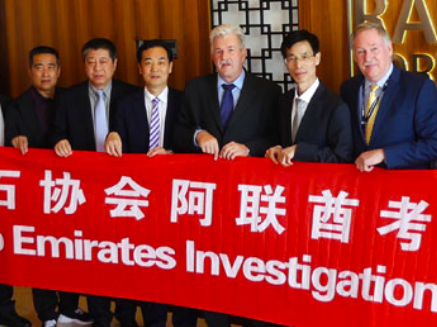 RAK Ports recently welcomed a delegation from China Aggregates Association.
The China Aggregates Association is established under the approval of the Ministry of Civil Affairs in China, with the objective of promoting innovative development of the aggregates industry and enhancing the relationship between Chinese and international companies within the industry. The Chinese delegation's visit aims to identify potential business opportunities within Ras al Khaimah and RAK Ports, specifically Stevin Rock one of the largest limestone quarry operations in the world.
A 9-person delegation led by Mr. Hu Youyi, the President of China Aggregates Association was received by the RAK Ports Group CEO , Saqr Port Manager and Mr. Scott Keddle, RAK Maritime City Free Zone Manager. Mr. Joseph Ruize Gao, RAK Ports Chinese Marketing Executive gave a presentation about Ras al Khaimah and RAK Ports.
Following high-level discussions, RAK Ports CEO commented, "With two newly opened deep-water berths and Hutchison Ports RAK Container Terminal, Saqr Port acts as a logistics gateway between the Emirate and China, and is happy to serve the shipment of aggregates products through the Port".
After the meeting, Captain Michael Magee, RAK Ports Harbour Master and Saqr Port Manager took the delegation on a boat tour of Saqr Port and RAK Maritime City Free Zone. Mr. Hu Youyi noted, "The operation of Saqr Port is very impressive. The China Aggregates Association could foresee a potential partnership between the two sides, particularly co-building and upgrading the conveyor system from Stevin Rock's quarry to Saqr Port".
With the Company's underlying technology and relationships with healthcare providers, MediXall plans to establish a system that can create a patient-centered medical tourism platform to innovate the entire global medical tourism industry. MediXall Global Solutions will initially leverage the 22,000 radiology providers and facilities in the CoreChoice network to offer affordable high-quality imaging services at convenient locations just across the Northern US border to serve Canadian patients.