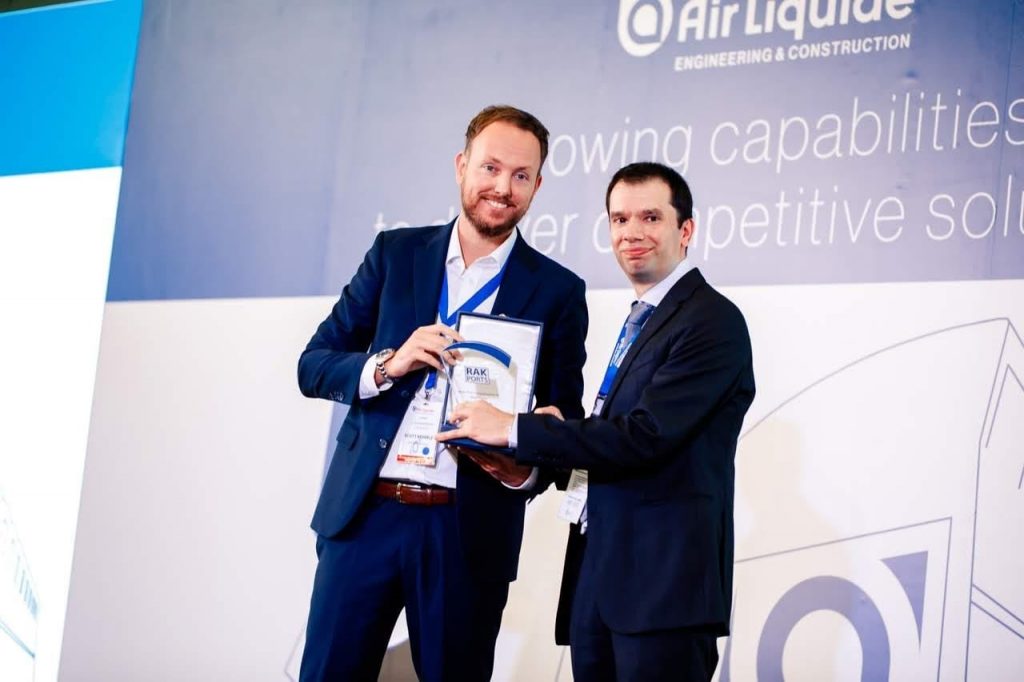 Air Liquide, the French multinational company which supplies industrial gases and services to various industries, recently held an event to celebrate the 5th Anniversary of its Engineering & Construction manufacturing centre being established in Ras Al Khaimah's Saqr Port/Free Zone.
The state-of-the-art facility provides a large manufacturing capacity to design and produce equipment for very large air separation units; Hydrocarbons and Liquefied Natural gas packages, such as columns and cold boxes of up to 600 tons. It also specialises in the manufacturing of storage tanks, skids and modules. The centre, with its own 450-metre long jetty is Air Liquide's 3rd manufacturing Centre after Vitry-sur-Seine in France and Hangzhou in China.
Scott Keddle, Manager of Saqr Free Zone, presented Air Liquide General Manager Jean-Phillipe Celli with a ceremonial plaque during the event and commented:
"We are delighted that a company of the size and stature of Air Liquide continues to recognize the unique value proposition of RAK Ports and is part of our thriving and expanding industrial and trade community in Ras Al Khaimah."
"The powerful combination of Ras Al Khaimah's strategic location, Saqr Port/Free Zone's logistic efficiencies and the connectivity offered by Saqr Port, the flagship port of RAK Ports continues to be a powerful magnet for industrial clients".