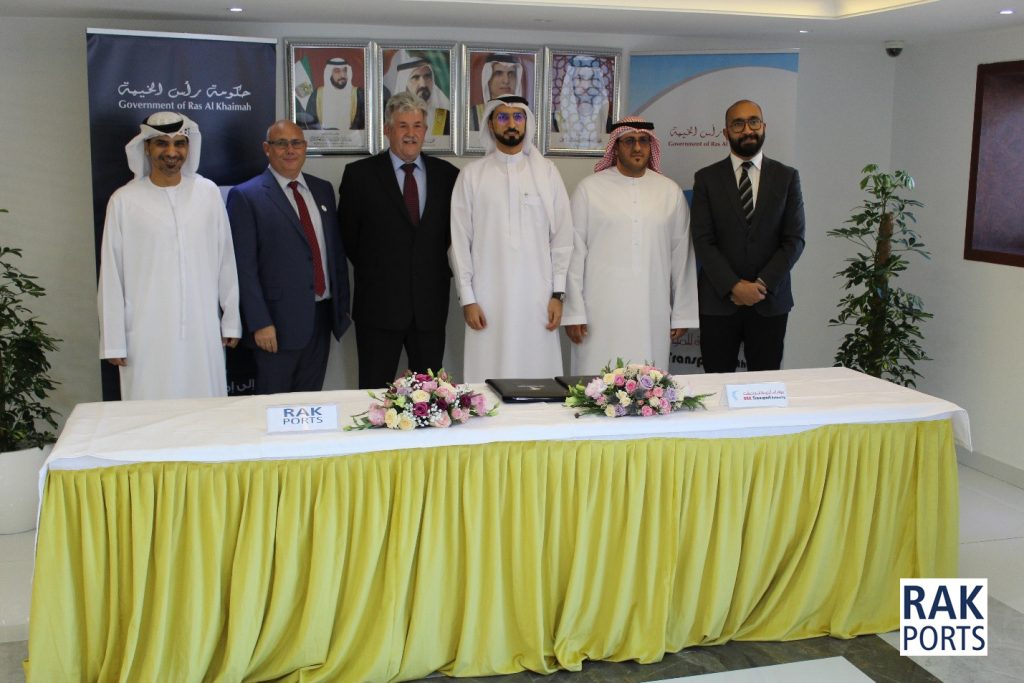 Ras Al Khaimah Ports sign MoU with RAK Transport Authority providing new opportunities and transport links for cruise and water tourism in the Emirate
Ras Al Khaimah – UAE – 24 Dec 2019:Mr Justin Wardle, Port Manager of Ras Al Khaimah Port reports that Ras Al Khaimah Ports (RAK Ports) and RAK Transport Authority (RAKTA) signed a strategic MoU to develop and reinforce the integration of land transport opportunities for passengers and crew of the visiting boutique cruise vessels by providing dedicated bus and taxi facilities in Ras Al Khaimah Port and the development of maritime passenger water transport opportunities on RAK Creek.
The agreement was signed by Chief Executive Officer (CEO) of RAK Ports and HE Eng. Esmaeel Hassan Al Blooshi, General Manager of RAK Transport Authority during a signing ceremony on the morning of 24th Dec 2019 at the RAK Transport Authority headquarters, in Ras Al Khaimah.
Under this agreement, RAK Ports and RAK Transport Authority will continue to work on multiple maritime projects supporting the development of boutique cruise and water tourism offerings in the Emirate. To achieve these goals the departments will further develop marine transport infrastructure around the boutique cruise terminal. RAK Ports & RAK Transport Authority will also facilitate water tourism operations by developing state of the art passenger ferry, abra and water bus landing platforms, develop water bus services from RAK Creek to Al Hamra, Marjan Island, Mina Al Arab, and develop a marine licensing authority for ferries, leisure dhows, water buses and abra's carrying passengers in RAK territorial waters.
CEO of RAK Ports commented; "We are looking forward to this partnership with RAK Transport Authority, and are confident that it will play a key role in supporting Ras Al Khaimah's vision in the continued growth of the maritime water and cruise tourism sector, following the re-development of the city's first boutique cruise vessel passenger terminal, which was recently launched and saw the arrival of its first vessel on 1 Dec 2019, where the passengers received a first class, hassle free service and support from the transport authorities public taxi service.
HE Eng. Esmaeel Hassan Al Blooshi, General Manager of RAK Transport Authority also commented; "RAKTA are always keen to enhance the relationship and cooperation with local entities, to achieve the Ras Al Khaimah emirate's vision 2030, our MoU with RAK Ports will aim primarily to develop the transport infrastructure in RAK city, providing taxi and bus services to the customers and passengers of the port and make sure of the smooth flow of transportation. The MoU will also enhance the cooperation in future projects especially in marine services such as Abra service in the creek".